Developing dashboard templates with a professional appearance for your website or app does not have to be prohibitively expensive. With the help of this compilation of the top free Bootstrap admin templates, you should be able to locate a user interface (UI) toolkit that is appropriate for the project you are working on. Each of these tools comes with at least one pre-built dashboard templates that is at least partially customizable and can serve as the basis for a project that you are working on of your own accord.
When you are making your own dashboard templates, you have the option of selecting components, elements, and cards from the variety that is provided in the various template packs. Some of the elements that you may add to your admin pages are charts, graphics, buttons, alerts, and tables. You also have the option to add more features.
Some dashboard templates come equipped with animation effects and other user interface features to help you create an appealing presentation. Because they are all mobile responsive, they should function well on devices with both large and small screens. However, because they are available in demo form online, you may test them out on any device of your choosing to determine whether or not they satisfy the criteria you have laid forth.
Many of these free dashboard templates are also offered as paid goods, which include more features and functionality and may be purchased by users who have the financial resources necessary. As a result of this, you will have access to a distinct upgrade path in the event that the requirements of your project evolve in the future or that your spending capacity expands.
Check out our collection of the top premium Bootstrap admin templates if your project needs a more capable alternative from the very beginning. We have compiled this collection for your convenience. However, if you are just getting started, you can use our collection of the finest free admin templates to help you get your project up and running without having to make any kind of financial investment.
33 Best Free Dashboard Templates For Admins In 2022
Here is the list of Top Free Dashboard Templates For Admins, Have a look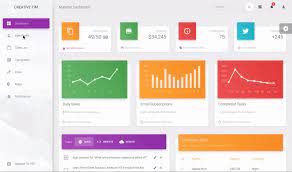 It is a free dashboard template for admin 2022 that was influenced by Google's user interface design approach. Not only will your admin section feature some of Google's best practices in user interface design if you choose the Material Dashboard template for your project, but you'll also have access to a terrific set of tools to help you customize your dashboard. In fact, with 60 customized components, you should be able to design a one-of-a-kind dashboard for your website, app, or other projects. Essential social media stat displays, graphs, and charts in a variety of forms, task lists and checkboxes, tables, and a variety of additional choices are just a few of the components.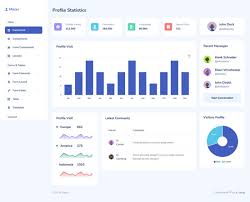 This free Bootstrap admin dashboard template is perfect for a variety of apps and other online projects thanks to the conventional font options. The main TemplateVamp dashboard's default layout has a header menu rather than the nearly universal sidebar navigation location. The default menu items include the reports, charts, and shortcode parts. Clicking on the icons in the header menu loads the various pages of your dashboard area, with the default menu items containing the reports, charts, and shortcode sections. You can alter as much or as little of the default designs as you need, just like the rest of this free UI kit, but it does have a robust collection of capabilities.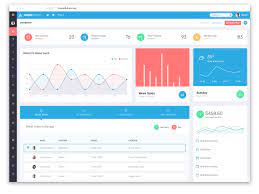 It's a free version of Ample Admin Pro, a popular bootstrap admin template. Ample Admin could be just what you need if you're seeking a free Bootstrap admin template for a personal project. This sleek handcrafted template includes seven-page templates to assist you in creating a suitable 404 error page as well as adding the necessary areas to your dashboard.
You'll also include eleven UI components, such as chat listings, recent comment panels, graphs, charts, and tables, to help you add valuable material to your pages. Ample Admin also includes a large number of Font Awesome icons to aid in the creation of your dashboard designs. Spinner and loader icons, form control, currency, directional, and medical symbols are just a few examples of icons you can employ.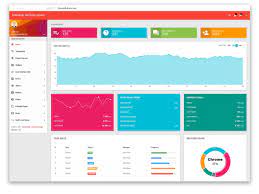 By default, it has a bright style, but you may easily change it to match your project. The AdminBSB Bootstrap dashboard kit is inspired by Google's renowned Material Design design. AdminBSB, on the other hand, is bold and colorful, in contrast to some of the other Material Design influenced admin dashboard templates. On the main demo, tiles with strong backdrop colors are used, ensuring that your dashboard area stands out and leaves a lasting impact on your users. AdminBSB does not disappoint when it comes to the cards that may be added to your personalized dashboard. Graphs with real-time updates, tables with many embedded elements, and a variety of alert cards that display vital messages and notifications are among the options.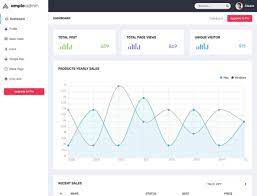 CoreUI is a free Bootstrap admin template that will assist you in creating visually appealing yet practical user interfaces. Whatever type of project you're working on, the free CoreUI template is likely to be a suitable match.
CoreUI is not only compatible with a broad range of libraries, including Laravel, Angular, and React, but it also offers a sleek, modern look. It is demonstrated in a variety of setups in the demonstrations, so you can get a taste of how your dashboard might look if you use this Bootstrap admin dashboard template.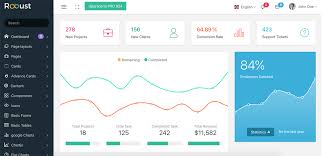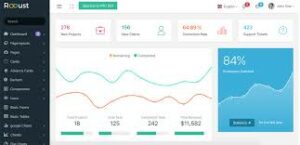 Minimal combines a fashionable flat layout with a powerful set of admin dashboard capabilities. This free Bootstrap admin template may be useful if you want to give your own admin panel a premium look. Minimal provides a variety of visual effects, ranging from moving icons in the sidebar menu to dynamic graphs. Minimal allows you to add media galleries to your dashboard pages, offering you an easy option to show your members photographs from your website. This feature should be of interest to you if your project includes a lot of images and graphics. The package also includes a variety of inbox themes, which may be used to display internal messages from other users and members of the admin team.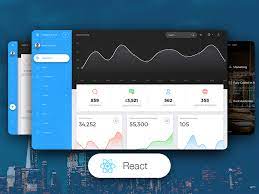 It makes use of a pleasing combination of colors and fonts to make your admin area look appealing. If you choose Now UI Dashboard, you should find that this free template collection contains all you need to get started and beyond, with 16 different pieces at your disposal. You can see how the graphs and charts on your website could look in the Now UI Dashboard sample, as well as explore some of the other features of this set of Bootstrap admin templates. If you ever feel the need for more functionality, you can easily upgrade to the paid edition of Now UI Dashboard to gain access to additional templates, elements, and plugins. UI Dashboard is now also fully documented, ensuring that you get the most out of this collection of admin dashboard templates.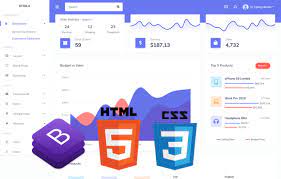 Colored maintains the tried-and-true flat UI design while adding a splash of color to keep your admin pages appearing fresh. If your project requires a colorful and lively set of admin pages, the free Colored Bootstrap template is a wonderful alternative. Colored is well worth checking out if you're developing the dashboard for your latest online app or software product. Colored has a premium style thanks to the hover animations and chart effects, which should appeal to your target demographic. The UI components are all well-designed and will look great no matter what device or screen size is used to see them.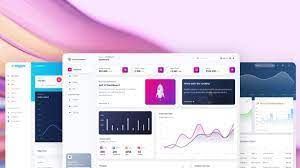 It is not only fully responsive but also mobile-first, making it ideal for use on smartphones. The Star Admin package includes pre-built templates that look fantastic. They have a very modern and up-to-date design. As a result, if you're searching for a free Bootstrap admin template that looks like a commercial product, Star Admin should be at the top of your list. It comes with a good range of widgets for your dashboard and other admin pages, in addition to the beautiful style.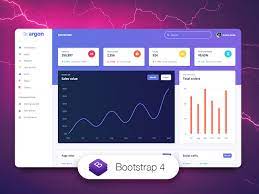 It's a free and open-source way to make admin sections for a variety of applications. Argon Dashboard will give any project a professional and high-quality appearing interface thanks to its entirely modern design based on the Bootstrap 4 framework. With over 17 thousand downloads so far, it's also a popular choice. Despite the obvious benefits of upgrading, there's no need to do so because the free version is quite capable. Argon Dashboard is worth investigating further due to its attractive appearance and useful features.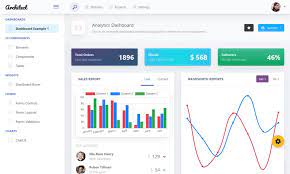 In today's world, you don't need to be an expert developer to create a fantastic admin dashboard. You can now easily construct the dashboard of your choice thanks to the free admin templates we have for you. Sure, any prior experience is advantageous for a quick resolution. However, it has all of the essential features and extras that will help you get started on your project quickly. As a result, it is best suited to simple apps. Of course, ArchitectUI HTML is powered by the popular Bootstrap Framework, which allows the site canvas complete flexibility. Even though ArchitectUI HTML is free, you may still edit and adjust the header and sidebar colors and designs. Maintain your professionalism by adhering to your branding guidelines.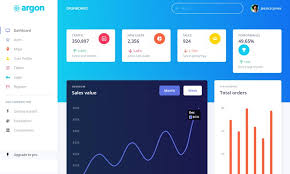 It includes some helpful templates and user interface components to assist you in creating your dashboard. The free Xtreme Bootstrap Admin Lite package includes pre-built templates that will help you get up and running quickly.
The manual provides step-by-step directions for getting started and modifying the templates. It also includes a few pre-built forms, which will help you save time when adding these important parts to your pages. If you need to modify these forms to make them more fit for your project, Xtreme Bootstrap Admin Lite should make it simple.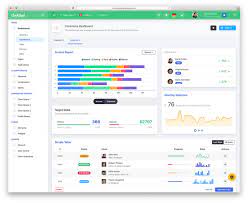 Admindek is a free admin template with a powerful clean and basic design for your upcoming application or other online projects. If a dashboard is the final piece of the puzzle, you've found one that will meet your demands and display all of the information, metrics, and other data in a stylish and attractive manner. Admindek is, of course, mobile-friendly, and it works well on a variety of devices. It adapts in a flash and works seamlessly with modern web browsers. Furthermore, Admindek includes a plethora of handy widgets that will cover every aspect of your project. You may also easily change the style and elements to suit your needs. It's a Bootstrap-based admin template with a large number of UI elements and even pre-made pages for your convenience.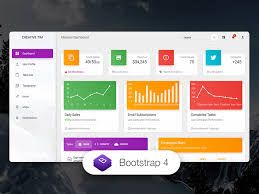 Edmin has a number of dashboard features and themes to assist you in creating an admin section for your project. Your logged-in visitors can view any charts you've added to this area from the main admin dashboard template.
You can also include interactive tables that allow your users to filter and search your data. Your visitors can access the other. It core functionality includes the ability to add dropdown menus to your pages. Notification alerts can also be used to notify your users when new messages are available or when actions are required. Your logged-in visitors should be able to locate exactly what they're looking for in the admin dashboard area thanks to the helpful search feature. Overall, the free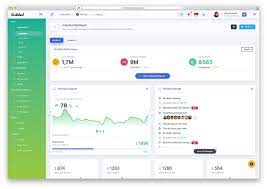 Kero's key traits are simplicity and effortlessness. Even so, this admin template has a lot more to offer. The canvas is available in nine different demos, each featuring horizontal and vertical structures. It also contains nine distinct color schemes for elements, allowing you to explore a wide range of options without devoting too much effort to it.
While the default configurations suit many users, you may always go one step further and customize Kero's layout to your liking. Kero also comes with a variety of button styles, application examples, 10 card styles, and navigation menus. Even if you use the material exactly as is, Kero will provide great outcomes, you can avoid the complication and keep things professional and easy.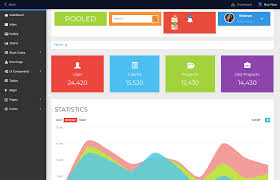 It comes with a variety of free layouts and components to assist you in creating your dashboard. This Bootstrap admin template was created with the goal of loading as fast as possible. This free set of admin templates not only looks fantastic but also helps you deliver excellent levels of speed to your user's thanks to its lightweight design and reduced file size. These themes' designs are not only attractive, but they are also entirely mobile responsive, allowing consumers to view your app, software, or website on their smartphones and tablets, regardless of screen size. The Shards Dashboard Lite bundle includes a library of over 1,500 FontAwesome icons as well as the Material icon collection, in addition to a good range of admin layouts.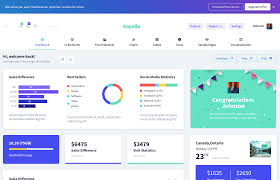 Any business or organization can use Sales Dashboard as a powerful admin template for tracking sales and financing data. You have the option of sticking with the default settings or going a step further with your tweaks and configurations. This just goes to demonstrate that Sales Dashboard is for everyone, as you can easily customize it to meet your needs. This is the solution that will assist in the creation of a first-rate admin panel for applications, websites, SaaS, and more. You may now get a full picture of your company's operations, which will aid in optimization and scaling.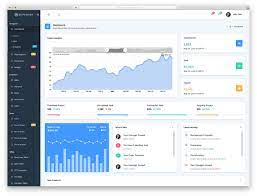 Lumino should appeal to everyone who wishes to establish an uncomplicated dashboard for their project, thanks to its clean and modern style. Anyone familiar with the Bootstrap framework or SASS should have no trouble customizing the Lumino designs, altering the colors, fonts, and the overall layout of your admin dashboard is simple. There are several choices for interacting with menus and notification elements. With a strong collection of UI components, alerts, and panel styles, Lumino should be a simple template to work with that's more than capable. Lumino is accessible for free download, but if you want the peace of mind of having access to the support channels, you can upgrade to a premium subscription.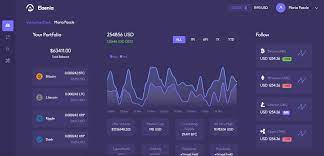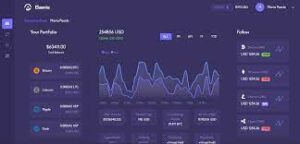 You'll find all the conceivable variations for any project or application in this collection of admin templates. If you're interested in Bitcoin and cryptocurrency, Cryptocurrency Dashboard is the best option. The template is suitable for websites, CMS, stock markets, initial coin offerings (ICOs), analytics, and – well, you get the idea – anything. Your admin will be great without investing too much time thanks to the latest technology and a variety of components. You can use Cryptocurrency Dashboard in its default state or alter its appearance and functionality.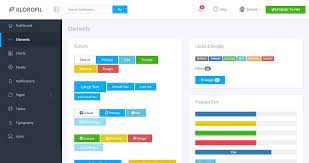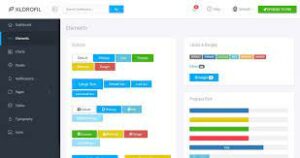 Klorofil is a simple style that also manages to provide an amazing array of user dashboard templates. Its design is centered on providing a clean and uncomplicated user interface, yet it's not a template that can be regarded as boring or innovative. Overall, this admin template is designed with a flat UI in mind. The minimum shading of the panels, on the other hand, will serve to give any dashboard made with Klorofil some personality. Able to add all of the necessary panels to your custom dashboard thanks to the variety of UI elements and components. It offers a variety of packaged choices, including beautiful buttons to stimulate user interaction with your dashboard, badges and alert panels to draw users' attention, and progress bar elements that may be configured in a variety of ways.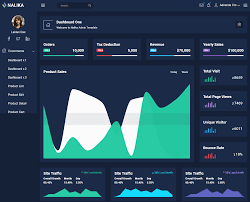 Only by tracking and monitoring everything – down to the last detail – can you go the additional mile. Finance SaaS Dashboard allows you to achieve precisely that without having to start from scratch. It's a fantastic admin template for financial data, but you can change it to suit your needs. There are multiple dashboards and internal page layouts, as well as color skins, to pick from. Many people will be able to set up the essential dashboard even if they use it straight out of the box. Finance SaaS Dashboard, on the other hand, accepts changes and improvements as well – just in case.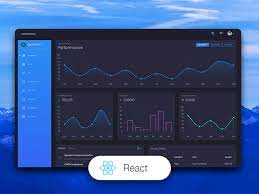 Another set of free Bootstrap 4 admin templates with a dark color palette is Black Dashboard. The Black Dashboard set of Bootstrap admin themes has a distinct style that is ideal for providing your dashboard or admin area a memorable look. You may use Black Dashboard for commercial projects, eCommerce panels, and a variety of other things thanks to the parts and components that come with these templates. If you need to exhibit visual representations of data, however, Black Dashboard's graphs and charts make it a particularly good choice. The animation effects that can be simply applied to your charts and graphs also contribute to a more aesthetically appealing design for your dashboard.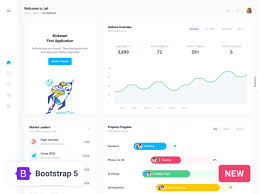 Marketers and agencies will appreciate Marketing Dashboard, a sleek admin template. Keeping track of everything is critical for success, whether you're working on your own campaigns or those of your clients. You can succeed at it with the appropriate admin, and you'll enjoy making the right decisions based on statistically meaningful facts. You can track the steps that users take as they progress through your conversion funnels using Marketing Dashboard. You can see what works, tweak it, and go on. Thanks to Marketing Dashboard, you can manage and maintain campaigns like a pro and keep everything as organized as possible.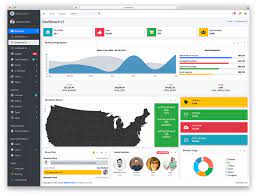 Brilliant is a simple design that can be enlivened by the animation effects offered. It provides a simple way to add movement to your dashboard, especially when producing charts and graphs, thanks to a collection of selectable animation effects. Use both the morris.js and Charts.js support to add nice graphs and charts to your admin sections when it comes to viewing data in your dashboard. Line, bar, area, polar, radar, pie, and donut charts, as well as the aforementioned eye-catching animation effects, may all be readily added to your dashboard. Although Brilliant is free to use, you can upgrade to the premium support service and unlock a few more features of this helpful Bootstrap admin template by paying a little amount. Brilliant has several fantastic features that can be of interest to you if you're seeking a free dashboard design.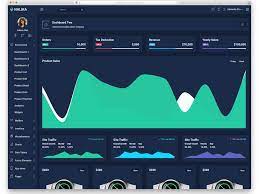 Analytic Dashboard assists in the creation of an admin panel that will track the analytics of your application or project down to the last detail. Instead of relying on third-party platforms, you may now establish your own customized platform. By default, it can monitor a variety of parameters, but you can customize it and add additional functions. The design is mobile-friendly and cross-browser compatible, guaranteeing that every user has a great experience. A back-to-top button, sticky sidebar navigation, drop-downs, animations, and many other features are included. Of course, you can preview it first to see how it looks in action before proceeding.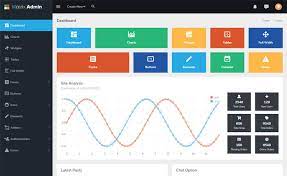 Matrix Admin is a feature-rich Bootstrap admin template that can be used for both personal and business projects.If you look at the live preview of Matrix Admin, you'll notice that the metro design style has been used to influence this admin template. The user interface's solid-colored blocks make it easy for your users to see which portions of the dashboard they can access as a result. If you use Matrix Admin to create your admin area, you'll have a lot of different pages and elements to choose from.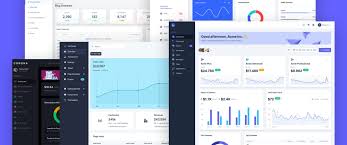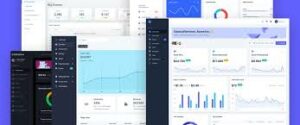 With the correct tools, tracking directories and listing platforms are a lot easier than you may imagine. Directory Dashboard, by chance, is a dedicated template with a plethora of features and components that will help you complete the task faster. There are several dashboard designs and internal page layouts to pick from in the program. There's still a lot more to it. You get everything all, including several applications, components, UI elements, cards, and maps.
The layout is responsive and the design is clean, resulting in an ideal experience. You can also contact the customer service team for regular updates.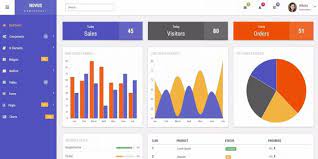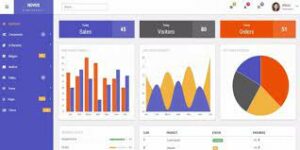 Modular Admin has been designed to assist you in creating modular Free Dashboard Templates For Admins 2021  for your project. It is a great option if you want to use open-source tools for your project. Modular Admin is not only free to use, but it also offers a completely modern design. The dashboard's default layout offers a number of panels that demonstrate the capabilities of this admin dashboard template. If you choose Modular Admin for your project, however, you will have complete control over which elements appear on your admin panel. There are plenty of pre-built page templates as well, including login, sign-up, and a few problem pages included in the bundle. Modular Amin is a free Bootstrap admin template with a sturdy style and a long variety of essential features.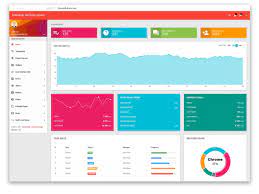 You can ensure that your audience understands your identity by altering the overall styles or adding your logo. It provides a helpful set of tools to allow you to launch your own unique control panel, in addition to the basic style. The many chart widgets are all attractively designed and ready to connect to your data source. The user profile and contacts parts, on the other hand, are really outstanding and should appeal to anyone developing a dashboard that requires this information to be displayed. You'll have a lot of symbols at your disposal thanks to the Font Awesome integration if you want to add some visual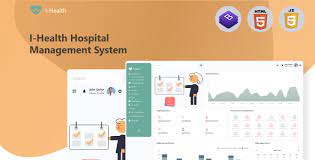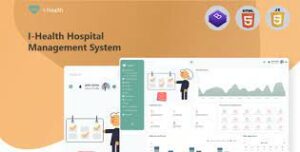 Start with a ready-to-use template for creating an admin panel for a hospital, clinic, or another medical facility. As the name implies, Hospital HTML Dashboard is here to assist you in getting started on the right foot right immediately. This is the appropriate site canvas to support you in speeding up the building process, with its basic and eye-catching style and plenty of functionality. Internal pages, applications, UI components, widgets, forms, charts, and a slew of other goodies are included in the Hospital HTML Dashboard kit. This is a Bootstrap Framework template with the most up-to-date technology, ensuring top-notch performance.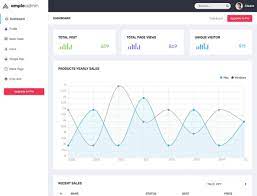 Shoppy is a free dashboard design that focuses heavily on eCommerce applications. Its default settings and layout will provide you and your users with a superb overview of your app or online store. With widgets on the main dashboard displaying the number of registered users and daily visitors, you can quickly display some vital metrics with this free dashboard UI kit. Certain useful components for showing important online shop statistics are included. This data includes sales statistics and total revenue, as well as a variety of display options. There's also a map widget that displays global sales on a moving globe. Shoppy comes with everything you'll need to build a mobile-friendly dashboard for your eCommerce business or app.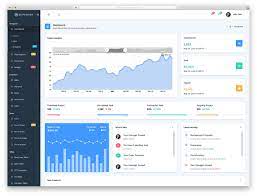 Gentelella is a beautiful free Bootstrap dashboard template that can be used to create truly spectacular dashboards. You will save a lot of time with it because the layout and all of the parts are already designed and ready to use. There's no need to start from scratch when creating an admin. Gentelella is adaptable to every screen size, including mobile, tablet, and desktop, thanks to the Bootstrap Framework. The program also includes a number of jQuery plugins that will come in handy while tracking statistics and optimizing your website.
Charts, calendars, off-canvas menus, progress bars, and a slew of other components are required when building the desired admin panel.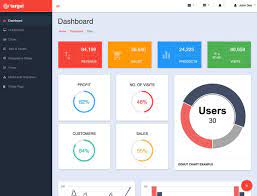 Because it was influenced by the Google Material Design guide, Target has a completely modern appearance. It is built with Bootstrap, HTML5, and CSS3 and features clean, developer-friendly code, allowing you to fully customize this and It is a free dashboard template for admin 2021. Target, on the other hand, provides a wonderful starting point for your app or website dashboard section because of its attractive layouts and designs.
Conclusion
Admin templates are design mock-ups for an existing website admin panel in order to make it more appealing and simple to use. When creating a new website, it's natural to focus on the front-end aspects of the project these all admin dashboard templates are worthy to use for excellent experiences.
Also Check: 15 Most Effective ZIP Password Recovery Software in 2022