HP Stream laptops are a renowned brand. Its laptops are one of a kind and aim to provide the best features at the best price. Featuring the Intel Celeron N3050 Dual Core Processor, the latest HP stream laptop, the 14 AX000 Series, is bound to give you efficient processing with a clock speed of 1.6 GHz that can go up to 2.16 GHz. The 2 MB cache makes inter-data transfer speedy and proficient. The latest HP Stream has an impressive RAM of 4 GB DDR3L 1600 SDRAM (1 x 4 GB) and a hard drive of 32 GB eMMC.
HP Stream laptops are known for their sizes and look. With each new HP stream 14 laptops that are released, it appears that the size has been significantly reduced in order to improve and facilitate portability. With dimensions of 33.7 cm x 22.6 cm x 1.79 cm (w x d x h) and a weight of about 1.44 kilos, the Stream 14 can easily fit into your bag or be carried in your hand. With a screen size of 14 inches (diagonal), the laptop has an HD SVA Bright View WLED Backlit screen that supports a resolution of 1366 x 768 pixels.
The new HP Stream laptop, model 14 AX000, features a full-sized island-style keyboard that feels extremely comfortable for your fingers. The HP image pad easily supports multi-touch gestures, including pinch-to-zoom and three-finger swipe. Along with the multi-touch support, the extra-long touchpad gives your fingers plenty of room to perform those multi-touch features with ease.
Fast internet connectivity, browsing and wireless connectivity with other devices have never been easier or faster thanks to the Intel 802.11 a/b/g/n/ac (2 x 2) Wi-Fi and Bluetooth 4.2 Combo. The single multi-format SD media card reader, the HDMI port, the single headphone/microphone combo, one USB 2.0 port, and two USB 3.1 ports give you plenty of options for connecting other devices with your HP stream laptop.
The HP Stream 14 laptop, 14 AX000, uses a 45 W AC power adapter and has a three-cell, 41 Wh lithium-ion battery. The integrated webcam and digital microphone let you make video calls to your loved ones without any predicaments or problems. The notebook features dual speakers with DTS studio sound which are powerful enough to easily fill a room without distorting the audio.
It uses Windows 10 Home 64 as its primary operating system and comes with the Audio Switch and JumpStart applications. 14th HP StreamSmall in size, anti-glare screen, and fast processing, the system is not only efficient but a perfect companion for long and lonely journeys.
If you're interested in purchasing this latest HP Mini laptop, then just click on the Buy Now button and place your order now. Paklap offers the lowest price for the HP Stream 14 Celeron Laptop in Pakistan with a delivery time of just 24 to 48 hours.
HP Stream Laptop 14-CB110NR Full Specifications
General
| | |
| --- | --- |
| Brand | HP |
| Model | Stream 14-CB110NR |
| Price in India | ₹58,735 |
| Model Number | 14-CB110NR |
| Series | Stream |
| Dimensions (mm) | 226.06 x 337.82 x 17.78 |
| Weight (kg) | 1.2 |
| Colors | Blue |
| Operating system | Windows 10 |
| | |
| --- | --- |
| Size | 14.00-inch |
| Resolution | 1366×768 pixels |
Processor
| | |
| --- | --- |
| Processor | Intel Celeron Dual Core |
Connectivity
| | |
| --- | --- |
| Wi-Fi standards supported | 802.11 ac |
| Bluetooth version | 4.2 |
Inputs
| | |
| --- | --- |
| Touchpad | Yes |
| Optical Disk Drive | CD/DVD Writer |
| Finger Print Sensor | No |
Ports and slots
| | |
| --- | --- |
| Number of USB Ports | 2 |
| HDMI Port | Standard |
| Multi-Card Slot | SD Card Reader |
| VGA Port | Yes |
| Mic In | Yes |
| RJ11 | Yes |
HP Stream 11-ak0010nr Laptop (Celeron Dual Core/ 4GB/ 32GB SSD/ Windows 10)
Display
The 11.6-inch, 1366 x 768-resolution screen of the HP Stream 11 quickly stands out for how washed out the colours appear. For instance, the sky in the Dunkirk trailer was bland blue and white throughout, as opposed to the yellow "old film footage" tone it had on the Samsung Chromebook 3. Although not exceptionally accurate, the Stream 11's display's colours are comparable to those of other laptops in its price range. It received a Delta-E rating of 3.69 (lower is better), which is comparable to the ratings of its 14-inch competitors (3.46 for the Dell Inspiron 14 3000 and 3.85 for the Lenovo Ideapad 100S-14). However, the Samsung Chromebook 3 is almost faultless, with a Delta-E of 0.21.
Audio
The HP stream laptop 11 exceeded my expectations, and I wasn't expecting much from this little $200 laptop in terms of music quality. For starters, despite being situated at the bottom of the gadget, its two speakers genuinely produce powerful and rich audio. Compared to the Samsung Chromebook 3, these speakers sound much more powerful. The Lenovo Ideapad 100S-14's speakers are quiet and passable, but not quite as nice as the ones on those two devices. The speakers on the Dell Inspiron 14 3000 come in a distant fourth.
Touchpad and keyboard
The keyboard of the HP Stream 11 is excellent, with big, evenly spaced keys and lots of quick response. But the laptop's pointed front lip severely ruins the typing experience by cruelly scraping your wrists as you try to press the keys. My speed and precision were significantly lower than usual since I expended a lot of energy attempting to avoid getting scratched by the lip. On the 10FastFingers.com test, I achieved a mind-boggling 20% error rate while typing at 73 words per minute. That is definitely slower than my normal speed, which is 80 words per minute with a 7% error rate, so I don't know what to say.A colleague's error rate increased from 2 to 8 percent when I gave him the Stream, and his pace decreased from 100 wpm to 92 wpm.
Speed and Graphics
For the price, the HP Stream 11 delivers reliable performance. The Stream 11 is quick when handling simple computing chores because of its 1.6 GHz Intel Celeron N3060 processor, Intel Graphics 400, 4 GB of RAM, and 32 GB of eMMc flash storage. But when multitasking, the machine may soon become overworked, as I discovered firsthand when I alternated between 10 online browser tabs while streaming a lengthy YouTube video and editing a few Google Docs. The laptop continued to work, but there was definitely a lag.
Battery
The laptop lasted 8 hours and 23 minutes during our battery test on the Stream 11, which is decent but less time than its rivals' runtimes. The Dell Inspiron 14 3000 (9:01) and Samsung Chromebook 3 (9:44) both had longer battery lives.
Heat
Despite HP's claims that its Stream devices are "fanless," I much prefer to put up with a little noise or a few air vents in exchange for a machine that is properly ventilated. After only 30 minutes of use, the bottom-right side of the Stream 11 became too hot; I had to immediately remove it from my lap. The top-right quadrant of the Stream's underbelly reached a blistering 104 degrees Fahrenheit after the laptop streamed a video for 15 minutes, which is much hotter than our 95-degree comfort threshold. Fortunately, it kept getting significantly cooler near the touchpad (80 degrees) and keyboard (89 degrees).
The HP Stream 11 Pro G3 costs $339 and comes with 64GB of onboard storage, but you can obtain the same amount of storage for only $15 by purchasing a 32GB microSD card. Better still, get used to keeping your personal information on cloud storage services like Dropbox or OneDrive.
Webcam
The front-facing VGA webcam on the HP stream laptop is surprisingly outstanding, offering realistic colours and noticeably clear photos. I used this camera to take a selfie, and it accurately captured the background's primary colours and every hair from my untidy hairdo. The main drawback is that you have to be seated fairly far away from the Stream 11 in order to be within its lens' field of view.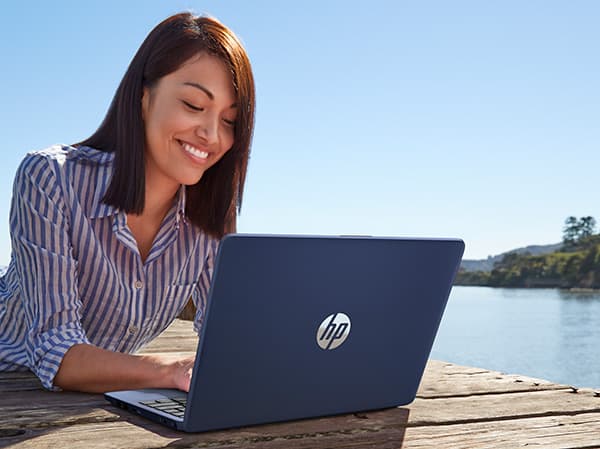 Programs and Warranties
While Samsung SideSync connects your phone to your laptop, HP Orbit connects your phone to your laptop so you can control both from your laptop. Two online services are also included on the Stream 11 to supplement its meagre internal storage. Dropbox gives a free 12-month membership for 25GB of cloud storage, and OneDrive comes with 1TB of free cloud storage as part of Office 365. Amazon, Netflix, and a 30-day free trial of McAfee LiveSafe are among the additional preloaded apps. HP offers a 90-day chat support period and a one-year limited hardware warranty. Check out HP's performance in our Best and Worst Brands report for 2017.
Conclusion
The tiny $200 HP stream laptop 11 and its vibrant design are difficult to resist. After all, it's so compact and lightweight that you won't mind carrying it everywhere, and since the battery lasts for more than 8 hours, you can leave your charger at home. The Stream 11 is an especially amazing deal because it contains 4GB of RAM, making it faster than competitors with similar prices that only have 2GB. This laptop is one that parents should absolutely think about getting for their kids. The scorching temperatures, poor screen, and razor-sharp front lip, however, are all significant negatives.