A software-defined storage device called VMware vSAN is used in conjunction with the VMware ESXi hypervisor. A software-defined storage system maintains and provisions storage in accordance with regulations, regardless of the underlying hardware.
Policies and regulations that specify qualities like availability and performance can be defined by users. It is simple to attach these policies to specific virtual machines. These policies and rules may be easily changed and applied using the vSphere Web Client if necessary.
VMware vSAN cuts down on the cost and complexity of traditional storage systems by letting policies and rules be used to control storage.
Architecture for vSAN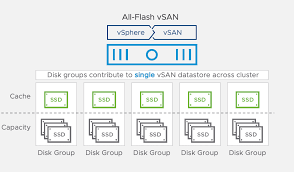 The object-based storage architecture used by VMware vSAN depicts each object as a block of data within the underlying Virtual Machine (VM). The VM Home (which houses the VM configuration files), VM Swaps, Virtual Discs (VMDKs), and Delta Discs (snapshots) are some of the objects that make up the vSAN datastore.
The VMware vSAN is primarily managed by a vSphere cluster. Either an all-flash cluster or a hybrid vSAN may be built using vSphere. A hybrid vSAN has both flash storage and traditional spindles, but an all-flash vSAN uses flash storage technology to handle cache and capacity levels.
A cluster has one elected master who is chosen by all of the nodes taking part in that group. Cluster Monitoring, Membership, and Directory Service (CMMDS) updates are extracted from all nodes by a master, who then distributes them to agents. The following roles are given to each node during cluster discovery:
Supreme role
All CMMDS updates are sent from all cluster nodes to a host designated as the Master. There can only be one master host per cluster.
Backup role
When the current Master fails, a host designated as a backup takes over as a Master. Only one backup host may be assigned to a cluster.
Role of agent
The same cluster's members take on the job of agents. When both the Master and Backup hosts fail, agents can step in to act as either the Master or Backup. If the cluster contains four or more nodes, then many hosts may act as agents.
The main components of vSan
The components of the vSAN architecture are as follows:
CLOM (Cluster-Level Object Manager)
creating new items for the cluster and moving existing ones.
Examining the objects' validity in light of the cluster's storage regulations and available resources
ensures that the defined storage rules are adhered to by the objects.
distributing workloads among the vSAN hosts equally.
DOM (Distributed Object Manager)
Within the vSAN cluster, objects are being resynchronized during recovery.
They choose which processes are sent from the object's I/O to the object.
doing I/O to an object on the VM's behalf.
requesting the LSOM to create the object's local components.
LSOM (Log-Structured Object Manager) 
making a read-write buffer available.
The datastore for vSAN is encrypted.
reporting a malfunctioning storage device and network.
I/O retries are made for devices inside the cluster that fail.
Every time a host boots up, solid-state drive recoveries are carried out.
CMMDS (Cluster Monitoring, Membership, and Directory Service) 
Finding, setting up, and keeping up nodes in a vSAN
cluster.
defining the responsibilities in the vSAN cluster.
providing inventories for all vSAN cluster components, including hosts and network devices.
preserving an object's metadata information.
RDT (Reliable Datagram Transport) 
responsible for coordination across vSAN cluster nodes
Think of a vSAN cluster as being constructed, with CLOM as the architect, DOM as the contractor, LSOM as the labourer, CMMDS as the project manager, and RDT as the delivery truck for the supplies.
Important vSAN Features of VMware
The following functionalities of VMware vSAN are available, depending on the licencing type:
Storage policy-based management (SPBM) enables storage policy-based management (SPM) to automate the administration of storage profiles.
It helps prevent unwanted access to data at rest by supporting software-defined data-at-rest encryption.
There can be 2 to 64 nodes in a cluster.
It provides extended clusters, which allow for the use of many virtualization host servers in a single configuration for increased security and availability.
A cluster offers data deduplication, which gets rid of duplicate copies of the same data, data compression, and erasure coding, which protects data by breaking it up into small pieces called "sectors."
By supporting storage quality of service (QoS), administrators can limit the number of input-output operations per second (IOPS) that a given VM can use.
Updates to HCI Mesh
Now, vSAN clusters may embrace HCI without scaling compute resources and storage or replacing current servers by sharing storage capacity with Sphere clusters that do not support HCI. Licensing HCI Mesh deployment for vSAN clusters or vSAN clusters sharing storage requires vSAN Enterprise or Enterprise Plus Licenses.
Services for Simplified Files
Utilizing APIs that let backup and recovery software providers interface with vSAN file services, backup of file shares using File Services is now made simpler. The new API enables backup applications to monitor fresh data and improve file scalability.
The Advantages of VMware vSAN
Simplicity
Due to the fact that VMware vSAN is integrated into the vSphere hypervisor, provisioning and administration are straightforward. With just a few clicks, you can install and configure it using the vSphere Web Client.
Agility
Instead of taking a one-size-fits-all approach, VMware vSAN is a storage solution that lets administrators use policies and rules to quickly and effectively add more storage space on demand.
Manageability
Setting up, managing, and provisioning VMware vSAN is simple. Its easy administration and provisioning make it easier to keep track of inventory, save a lot of money, get assets online faster, and not hurt performance.
The total cost of ownership is lower (TCO)
Businesses may save on upfront expenses by easily deploying VMware vSAN on affordable x86 servers. In the long term, it may become a more affordable but effective storage option due to its highly scalable architecture and rapid implementation of required modifications.
Using VMware vSAN with Parallels RAS
Parallels® Remote Application Server (RAS) is a VDI solution that allows you to deliver applications to end devices regardless of the underlying infrastructure.You may rapidly launch a number of VMs to fulfil your business needs thanks to Parallels RAS, which deploys VDI desktops on-demand.
Because Parallels RAS supports a variety of hypervisors, including VMware ESXi, you can also make use of VMware vSAN storage. With Parallels RAS, managing many virtual machines from various hypervisors within the same infrastructure is simple. This flexibility, together with the advantages of using VMware vSAN as a software-defined storage solution, allows you to easily assign and supply software-defined policies to various virtual machines, which will ultimately increase scalability, simplicity, agility, and total cost of ownership.
FAQS
How does VMware's vSAN work?
Enterprise storage that supports hyper-converged infrastructure (HCI) systems are provided by VMware vSAN, a software-defined solution. As a distributed layer of the software inside the ESXi hypervisor, vSAN is completely integrated with VMware vSphere.
What are VMware vSAN's two advantages?
Setting up, managing, and provisioning VMware vSAN is simple. Its easy administration and provisioning make it easier to keep track of inventory, save a lot of money, get assets online faster, and not hurt performance.
What does vSAN mean?
A virtual storage area network (VSAN)  is a logical part of a physical storage area network.