You can cycle to work every day if you want to save money on gas and help the environment, but what if there was a way to accomplish both with added convenience and ease? Fortunately, there is a solution — folding electric scooter, of course!
Folding electric scooters are available in a variety of ranges, top speeds, and price points. For example, there are folding electric scooter models designed exclusively for children, as well as those designed to enable off-road riding.
We compiled a list of the best folding electric scooters, focusing on lightweight folding electric scooter with long battery life, extra safety features such as front and backlights, double disc brakes or eABS braking systems, non-pneumatic tyres, and simple controls. We also loved models built of specific materials engineered to provide maximum strength while being lightweight, such as T6 aluminium alloys.
Keeping these characteristics in mind will help you select the best folding electric scooter for your needs. We loved it because of its built-in rolling wheel and luggage bag, which makes it ideal for air travel and weekend road trips, as well as its powerful engine and relatively high peak speed, and its airless never-pop tyres.
Best 10 Folding Electric Scooter Options In 2022

Continue reading to learn more about this and our other top picks for the best folding electric scooter range on the market today.
The Gotrax VXL G2 is a 250w foldable electric scooter with a top speed of 15.5mph and the ability to handle inclines up to 14 degrees, making it one of the best electric scooters for hills. It has a sophisticated eABS anti-lock double braking system for increased safety, as well as a one-step folding design for convenient transportation. Its incredibly powerful LED headlight is one of the brightest on the market, and when combined with its bright, easy-to-read display for distance, speed, and battery status, it's ideal for night riding.
While its battery only gives 9-12 miles of range per charge, its above-average horsepower and safety and night-riding features make it an excellent choice for nighttime commuters. Compare this model to the best commuting electric scooter, which features a high peak speed and powerful rear-wheel drive.
The Segway Ninebot Max is a foldable electric scooter with a 350w engine and a top speed of 18.6 mph, making it one of the fastest lightweight foldable electric scooters. Its robust battery can travel up to 40.4 miles per charge, depending on parameters like rider size and road conditions, and we loved its several modern amenities, such as cruise control, iPhone and Android app compatibility, and a small LED display.
Its absence of a separate suspension may result in a somewhat rougher ride in some conditions, but this will not be an issue for most commuters. It's a great choice for a high-quality, easy-to-drive, and very portable electric scooter with above-average horsepower and exceptional battery strength. In addition, if you're looking for an option to battery-powered versions, have a look at the best gas scooter, which also has good gas mileage.
The Razor E300 is an electric scooter with a power output of 300 watts. It has a top speed of 15 mph and a battery life of 40 minutes per charge. We appreciated its super-quiet chain-driven motor and entertaining, vintage-style, easy-to-use starting and grip throttle, which new riders will find familiar and will make it very simple to learn to ride safely. While it offers ample power for most commuting and leisure usage, the sluggish charging time of up to 12 hours may not be suitable for many riders.
However, its light 26lb weight, extra-thick frame, extra-wide deck that fits a wider range of rider sizes, and fun-to-ride, retro style make it an excellent choice for beginner riders looking for a strong, safe scooter that is easy to transport. We offer the best kids' scooter that is really easy to learn on for the younger ones.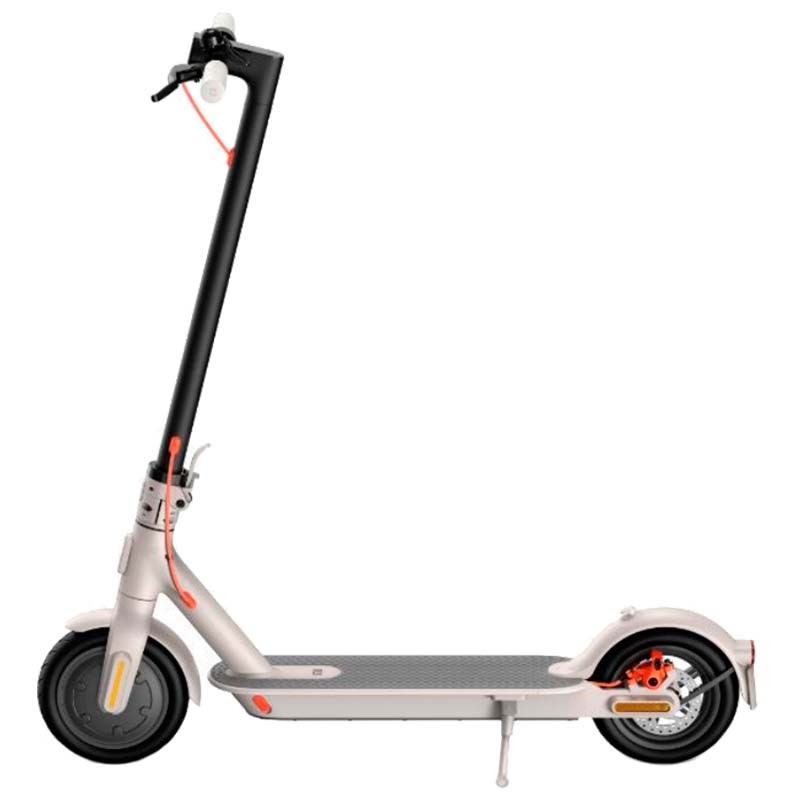 The Red Dot "Best of the Best" Award-winning Xiaomi Mi electric scooter has a foldable 26lb aluminium frame and a 250w motor. It has a top speed of 15.5mph and a maximum trip range of 18.5 miles. We loved its easy-to-use controls and Applecare-like repair programme, as well as its great customer service and technical assistance. Its dual disc brakes and eABS anti-lock brakes make it one of the safest and smoothest-riding models available for all terrains and commutes ranging from city streets to mountainous suburbs.
The maximum trip per charge figure given is partially dependent on factors like rider size and road conditions. However, its safety features, maintenance programme, adequate horsepower, award-winning design, and fair price point make it one of the best all-around portable scooters on the market. In terms of price, the best 50cc scooter is also worth considering.
The Segway Ninebot ES2 is a 300w electric scooter with a top speed of 15mph and a range of up to 15 miles on a single charge. It has Bluetooth, mobile security, and navigation app connectivity, as well as switchable cruise control and mechanical and electric anti-lock braking systems. Its easy-to-read LED display for mileage, battery power, and speed impressed us, and its low weight and foldability made it simple to transport and store in a car trunk for vacations.
Its airless, non-pneumatic tyres provide pop-proof safety, but they are not appropriate for rougher roads or streets. However, for most working professionals and enthusiasts, it's a good deal for a highly modern, full-featured electric scooter with plenty of power. For people who want speed, we recommend the best electric scooter, which is one of the fastest adult electric scooters on the market.
The Glion Dolly Foldable Electric Commuter Scooter is a 250w variable-power electric scooter having a top-end peak power of 650w. Its top speed of 15 mph and travel range of 15 miles per charge are more than enough for most commutes, especially on mountainous terrain, and its airless, never-pop tyres and rear anti-lock brakes provide a safe ride. Its light 26-pound frame, built-in rolling wheel, and luggage bag made it ideal for air travel and weekend road vacations.
As a result, it's an excellent choice if you're looking for one of the best electric scooters for commuting. It may not be as smooth a ride as larger, dual-suspension versions with rear-only suspension. However, its strong horsepower, battery strength, simple controls, and safety features, combined with its super portable design and features, make it a great all-around scooter that perfectly balances quality, power, and travel-friendliness. Another travel-friendly type is the best folding mobility scooter with a long battery range.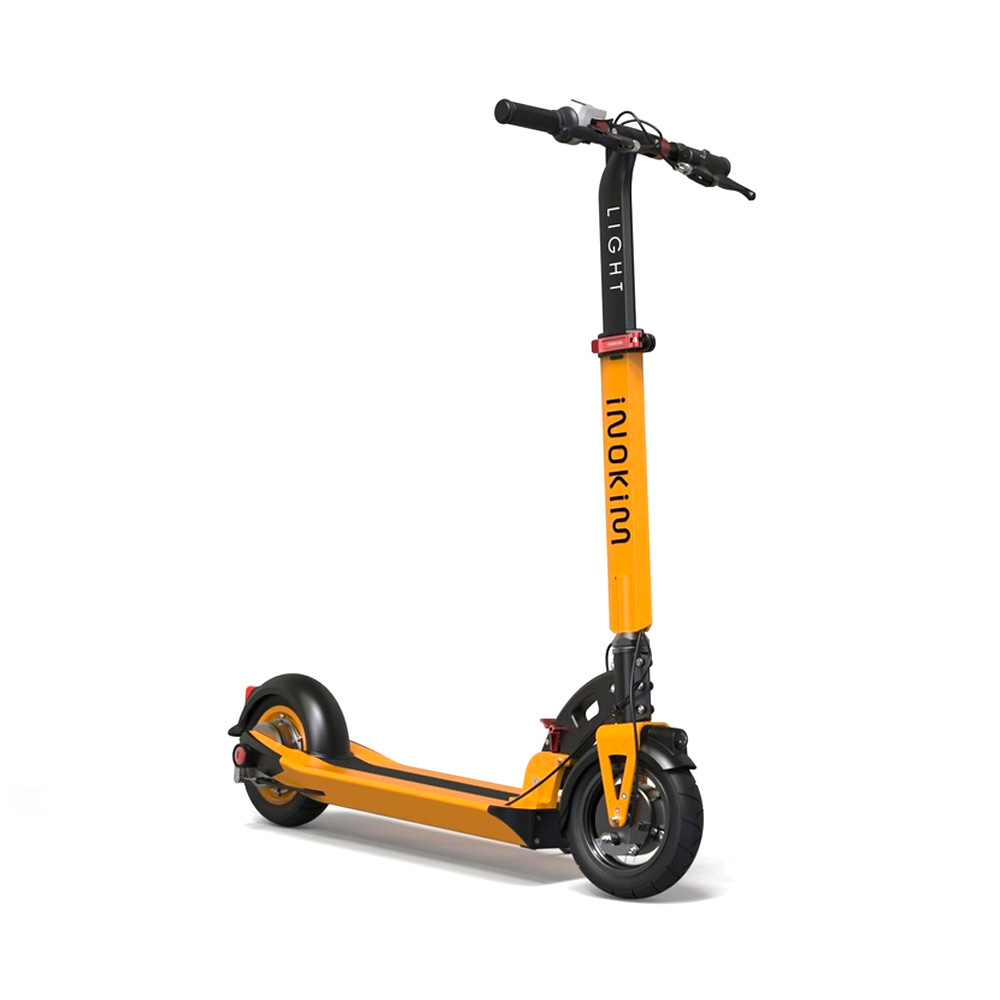 The Inokim Light Foldable Electric Scooter is a 350w electric scooter with a top speed of 21mph. Its safety-conscious design has several rear and front parking-style lights, front and back drum brakes, and an extremely light, highly durable T6 aluminium alloy chassis. We liked how its adjustable neck, paired with its foldable frame, enables for one of the most compact folded scooters available, despite the fact that at 28 lbs, it's light but not the lightest.
Its relatively tiny 8.5-inch pneumatic tyres may make it less suitable for tougher roads, but its extra safety features, smartly compact design, and greater horsepower set it apart from other lightweight foldables. Another wonderful alternative for high horsepower is the best electric scooter with a seat and a 500w engine.
The Razor E100 is a foldable electric scooter with a power output of 100 watts. It has a top speed of 10 mph and a battery that lasts 40 minutes on a single charge. We adored its simple, vintage-style starting and grip throttle, as well as its super-quiet chain-driven motor. We particularly loved its bright, easy-to-see colour, which not only gives it a pleasant appearance but also makes it easier to spot on the road, resulting in greater safety.
It has one of the slower max speeds on the market, and its relatively limited battery power of 40 minutes per charge may not meet the needs of all commuters. However, its light 26lb weight, simple controls, vivid colours, low ecological footprint, and large-grip front tyre make it a safe, dependable choice for ages 8 and up, as well as one of the best values on the market and a wonderful pick as one of the best electric scooters for kids or adults.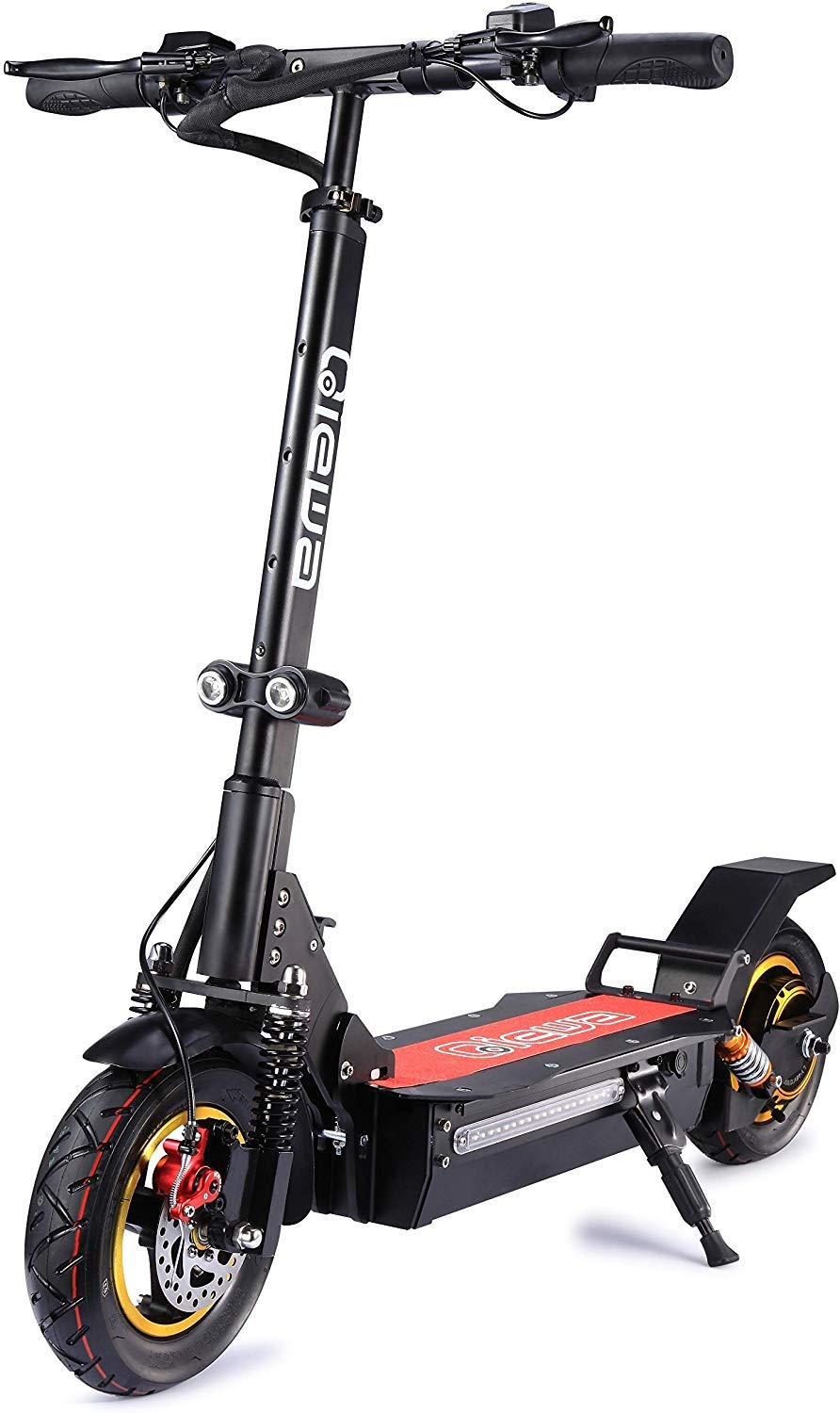 The QIEWA Q1 is an 800W hub motor foldable electric scooter with a top speed of 37mph and a travel range of 68 miles per charge. It has a maximum carrying capacity of up to 580 pounds, a solid, heavy-duty 60-pound build, large-tread all-terrain tyres, a double braking system, and a unique shock absorber to help deliver a safer, more pleasant ride. Although its folding shape makes it a portable alternative, it's substantially heavier than most other foldable scooters at 60 pounds—though still doable for most, and with a low centre of gravity, its weight doesn't make it difficult to balance.
Its incredibly powerful battery, comfort and safety features, and high peak speed make it a superb, if more expensive, option for riders looking for a portable scooter with significantly more power than most. Heavier individuals will pick the best electric scooter for heavy adults with a 220 pound weight capacity.
The XPirit electric scooter is a 250w foldable scooter with a light, 27lb, sturdy aluminium alloy construction and a top speed of 15mph. It has three power settings: eco, comfort, and sport. The top speed is reduced to just about 10 mph in Eco mode, but you can travel up to 15 miles per charge. We enjoyed the cruise control in Comfort mode and the increased top speed in Sport mode, as well as the modest but easily readable LED control panel and display that allowed for fast changeover.
Its simple controls are ideal for novices and children, and it has enough power for most hills, but its lower-than-average 220lb maximum weight capacity may be insufficient for larger individuals. Overall, it's a very user-friendly, safety-conscious option for short to medium travels with a low environmental footprint, and it's a terrific deal for anyone who wants to start riding for the first time—it may even be the best folding electric scooter for the elderly. When compared to the best electric scooter for adults, which can travel 12 miles on a single charge, this is a significant difference.
Frequently Asked Questions
Are electric scooters safe to ride?
Electric scooters are generally a safe means of transportation, but this varies greatly between models. The range of engine power, top speeds, comfort features such as shock absorbers and double suspension, and tyre and frame construction, among other aspects, is quite wide, and the safety of each model is thus diverse. The safest models will have high weight capacities, airless or non-pneumatic tyres that don't deflate and won't pop unexpectedly, double-stopping or other high-tech braking systems, modest top speeds (10-15mph), and double suspensions or suspensions with shock absorbers to assure smooth rides.
Is it safe to ride an electric scooter in the rain?
It's not always evident from product descriptions if riding your scooter in the rain is safe. Exposed mechanical parts and electronics can be damaged by water, and not all wheels are suitable for navigating slick streets. Some scooters are expressly built to be waterproof or water-resistant, and these scooters will typically specify such a feature in product descriptions. Nevertheless, even scooters marketed as waterproof are not necessarily rain-safe. Unless clearly stated by the manufacturer, it should always be presumed that any scooter you're looking at is neither.
How trustworthy are foldable electric scooters?
Electric scooters, in general, are pretty reliable means of frequent transportation, depending partly on the conditions in which they are regularly driven and, obviously, the quality of the scooter. Best folding electric scooter, which make up the vast majority of consumer and battery-powered scooters on the market, are no less reliable or prone to problems than most less portable types.